Are you considering braces and want to know what colour braces you could have? Let's go through the best braces colours that will look amazing in your mouth!
1. Module colours.
The orthodontic wire is held on onto the braces bracket by a 'module'. This is the actual colour that you can see on the braces when people smile. This module stops the wire coming off the tooth and helps to straighten the tooth. The colour of the braces can change every time you come in to see us because these little modules lose their ability to hold the wire over time. Our clinic lets you choose your colour braces every visit so you dont feel locked in to one colour.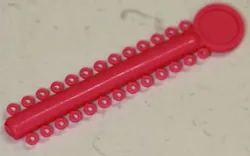 What colour braces do we offer? You can have black braces, which Dr Jack hates ;) , blue braces, pink braces, red braces, purple braces or even teal braces. We have a large colour selection for you to choose from.
2. How do I choose the colour of my braces?
We recommend viewing this page before your visit to keep up with the different colour selections. Sometimes it is a bit of pressure to try and decide the perfect colour on the spot. Here is the picture of our current selection of modules for you to choose from. Remember, these braces colours are going to change each visit to the practice, so there is no right or wrong answer, just the colour you will have for a few weeks.
.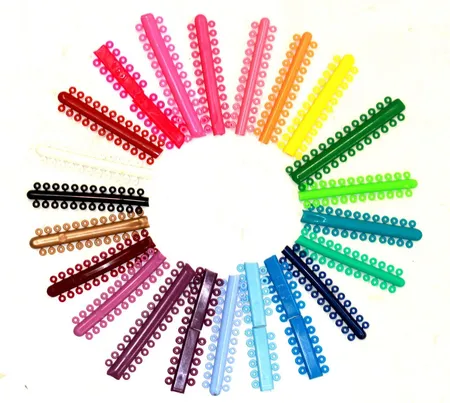 3. Can I have a few different braces colours?
Of course you can. It looks better when you alternate colours. Sometimes we even use rainbow colours which look amazing and will stun your friends that you even had that type of option. How do the rainbow braces look? See the picture below and imagine that colour on your teeth.
---Rainbow braces colour picture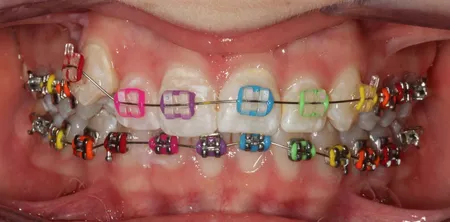 Are you sure you dont want clear braces colours? They look great with our ceramic brackets that we use and it means the braces are nearly invisible. This is what we use for 90% of our adult patients.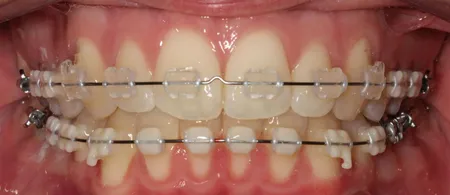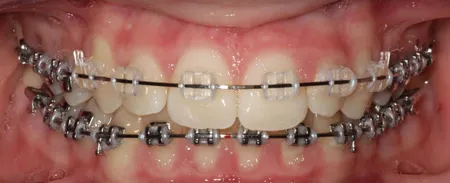 4. What do black braces look like?
Dr Jack really, really doesn't like the look of black braces ;) but sometimes our patients ask so much for them that he is pressured into doing it. What do you think of the black braces?

5. What do blue braces look like?
Blue braces are cool but what blue do you mean? Is it light blue, dark blue, a kind of teal greeny/blue. These pictures below will give you an idea of the types of blue we are currently using. Maybe you even want to change the blue between each tooth and alternate dark/light blue.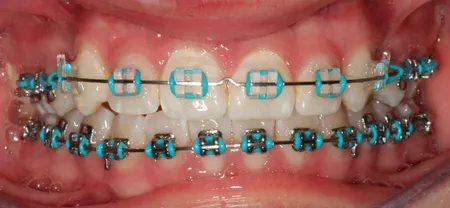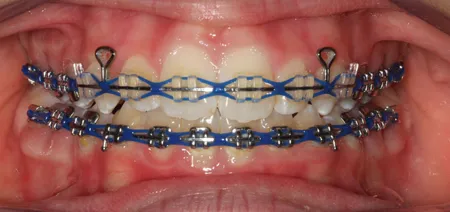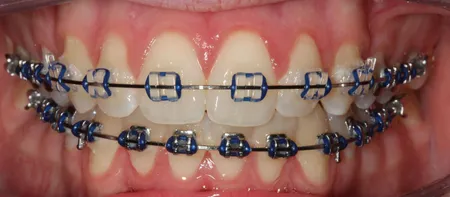 6. What do pink braces look like
Not every patient who has pink braces is a girl. Sometimes our male patients will get pink braces because they have a bet on with their friends (true story!) or they just like the colour. It depends on whether you are looking for dusty pink, fluoro pink or a darker type of pink. They all look good!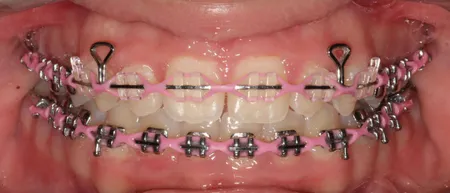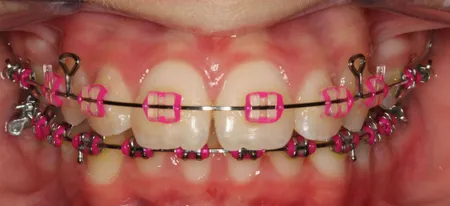 7. What do red braces look like
This is a tricky one. Red looks ok but we think it sort of looks like blood in your mouth. Its a little bit strange. We can do red braces for you and they look like the photo below, but when you are looking at this colour from a distance, it is not as great as the other ones. Unless you are going for the vampire type of look, then maybe it is the perfect solution.

8. What do purple braces look like?
Purple is cool and comes in different shades. We have light purple, plum, egg plant, dark purple. It stands out fairly well and will look great in your mouth. This colour braces is fairly popular in our clinic at the moment. We can always tell you which colour is walking out the door the quickest this month and recently it has been purple braces.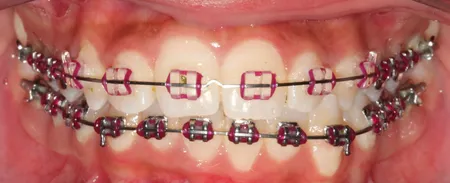 9. What do teal braces look like.
Teal has been very popular with our patients last year. This colour was on every 4th patient or so at one point, so it must have been in high demand. Sometimes the teal may also go across the colour of the braces in a chain type of link to close the spaces of the teeth. This makes the colour stand out. We also use the teal colour for our Port Adelaide Power fans who want that colour to match their team. Teal and black alternating looks great. I asked our patient, "do you want me to put white braces on too". He said no, the teeth were white... Shoulda guessed :)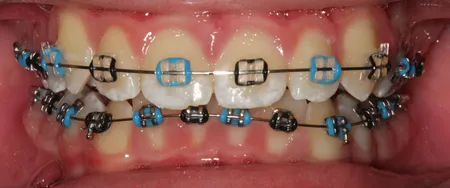 10. Are orange braces a good colour.
It depends if you like the colour. Sometimes it looks a little like the braces have a nice colour and other times it sort of looks like you didn't brush. What do you think of this photo? Is that what you were hoping to look like?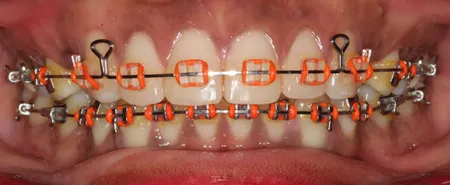 11. Green isn't just for frogs.
You can have forest green or as we call it, 'kermit green', it is a bit retro but stands out well and doesn't look like you have food on your teeth, unless you think its the same colour as lettuce. The fluoro or lime green colours look good and are one of the most popular this year. If you really want to make your mark then this is the colour for you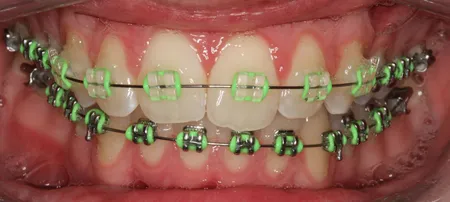 12. Alternating color braces
Your imagination is really the only limit with this. Changing colour every 2nd tooth or even having one colour on the top and another on the bottom will let you keep your friends guessing what colour is coming next? It really is up to you for changing the colour, we have a few examples below, but this isn't the only choice that you have. See what you can come up with and surprise us!