Orthodontics for Children & Teens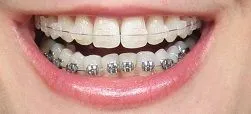 While there is no exact age for children to begin orthodontic treatment, around age seven to start thinking about your childs teeth. This is when most kids have enough permanent teeth to allow our highly skilled and experienced dentist, Dr Jack to diagnose and correct any issues.

Your teenager's mouth, teeth and jaw continue to grow as quickly as the rest of their body. Here are a few signs to look for that may mean your child needs an orthodontic assessment.
A hard time chewing or biting food
Mouth breathing
Crowded, misplaced, or blocked teeth
Jaws that pop or make sounds when opening and closing
Available Orthodontic Treatment for Children & Teens
Space maintainers and other Phase I appliances
Traditional Metal Braces
Clear, Ceramic tooth-colored braces (known as invisible braces)
Invisalign – straighten your teeth with removable clear aligners
Please contact our office on 8271 6233 to schedule an appointment for a free orthodontic consultation. Early treatment now will give your child a healthy, beautiful smile for the future.